---

---
---

Wisconsin's leading equity, diversity and inclusion conference will take place May 7-8, 2024, in Eau Claire, WI. The sixth annual Toward One Wisconsin (T1W) conference will bring together leaders and professionals from a broad range of sectors, including private business, non-profit, government, health and education, to empower and employ the full talent of all who live in Wisconsin...
...While features of the 2024 conference are still in the planning stages, they will include:
Informative and inspiring keynotes
20 Breakout presentations to choose from within four tracks:

Workforce Track:Increasing Opportunities for Inclusion in Wisconsin's Workforce
Community Track: Creating Inclusive Communities
Education Track: Cultivating Equity in Education
Health Track:Building Health Equity in Wisconsin

Best practices, success stories, and actionable takeaways
Opportunities to network, learn, and grow with other attendees.
For additional information, visit inclusivity-wi.org....
...Full Story Here

---
---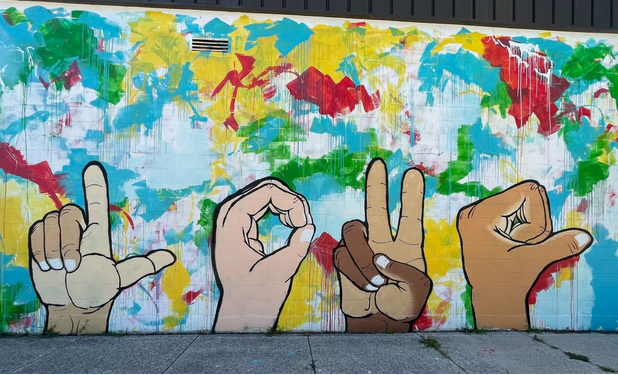 By: Audrey Lopez-Stane, WIPPS Student Journalist
APPLETON, Wis. -- Mexican-American artist Neo Medina shares his journey battling discrimination through the influential murals he paints across Appleton.

As a Sheboygan native, it wasn't easy for Medina to grow up in a predominately white city. Though a lot of the hardships in his life come from being raised in a white community, he uses art to connect with others who have faced similar experiences.

Medina makes his art because "it's not easy to be Black or brown," and he is happy knowing that his art is a gift he can offer the world.

Medina strives to give marginalized groups the voices they need to be successful. That's why his murals center around melanated youth and aim to spread messages of love and inclusivity. Medina wants them to see themselves as capable, beautiful, and worthy of love...
...Full Story Here

---
---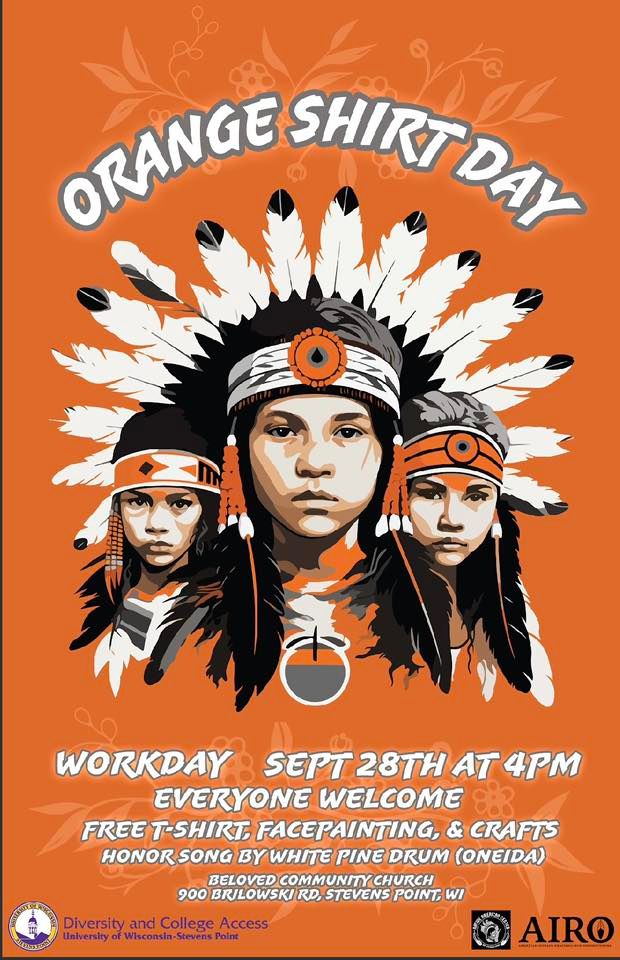 Thursday, 28 September 2023 @ 4 PM

Come together to help bring awareness to the history and present day consequences of residential boarding schools.
Get your free Orange T Shirt, have some food, community and crafts. The Native American Center will be hosting White Pine, Drum from Oneida to honor the children lost. Work to prepare for Orange Shirt Day on Sept 30th- with a Remembrance Walk.
...Full Story Here

---
---
At the direction of Chancellor Jennifer L. Mnookin, an ad-hoc group will study the Black experience at the University of Wisconsin–Madison and recommend steps the campus community could take to positively impact that experience.
"Black students, faculty and staff at UW–Madison have long experienced a campus climate and environment that can, at times, meaningfully inhibit a sense of belonging and the ability to flourish," Mnookin says. "Most recently, a video on social media last spring in which a UW–Madison student used vile, racist language had a significant and harmful impact on our Black campus community and beyond.?While we have, over recent years, spearheaded a variety of efforts to support underrepresented minority members of our campus community, we recognize we still have much work to do."...
...Full Story Here

---
---

For this month's "Beyond Boundaries: DEI Talks" we will be discussing a highly requested topic: Conflict Resolution. This agenda led discussion will provide attendees an overview of DEI's role in conflict resolution as well as ample opportunity for discussion. We hope to see you next week!
"Beyond Boundaries: DEI Talks" convenes virtually on the last Thursday of each month at 7:30 p.m. CST. These meetings aim to foster informal and relaxed discussions surrounding DEI work. Whether you're an experienced DEI professional or someone new looking to expand your knowledge, everyone is welcome.
For information and how to attend, visit:
https://inclusivity-wi.org/deitalks/

Stay connected with fellow DEI professionals in Wisconsin and eliminate the wait until the next year`s conference. Join us for "Beyond Boundaries: DEI Talks," a monthly virtual gathering that offers a space for individuals engaged in or interested in the field of diversity, equity, and inclusion to engage in casual conversations and discussions.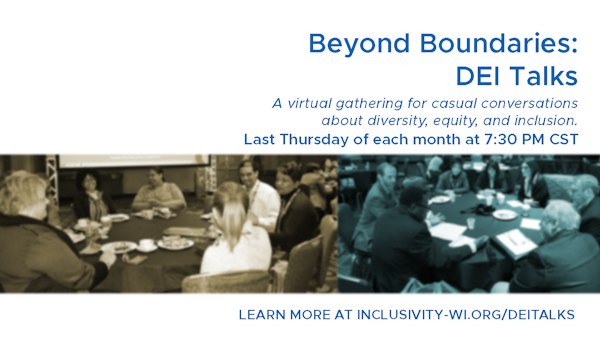 You can join the virtual talk group through this zoom link or by adding the event to your Outlook Calendar.
...Full Story Here

---
---
Raise a glass to celebrate 10 years of accomplishments and transformational change that our dynamic members brought to the Greater Madison area.
When: September 30, 2023 - 6:00 PM - 11:30 PM

Location: Madison Marriott West - 51313 John Q. Hammons Drive | Middleton, WI 53562
...Full Story Here

---
---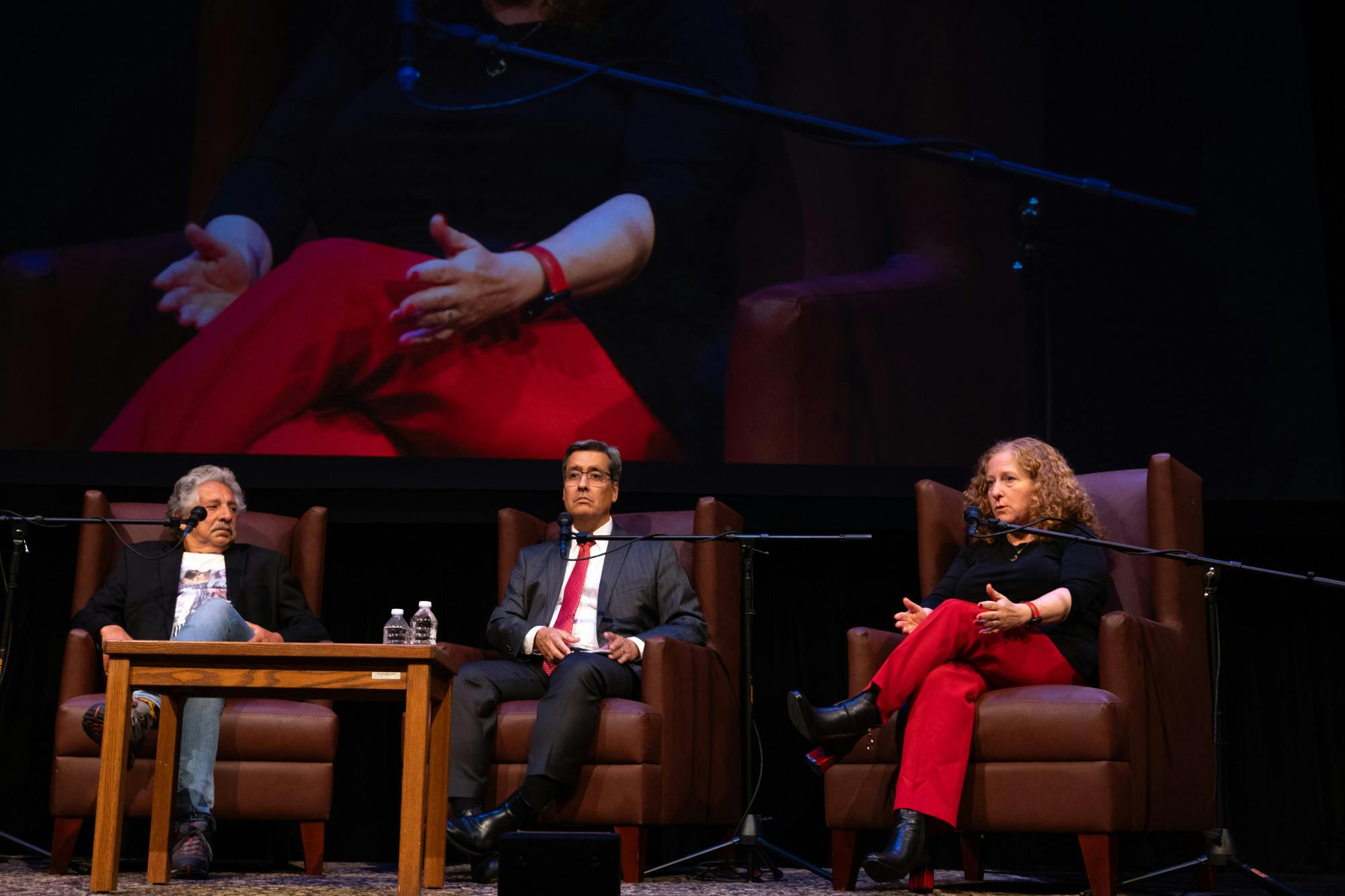 Members of the Madison community, including Chancellor Jennifer Mnookin, emphasized the necessity and crucial role of free speech and Diversity, Equity & Inclusion (DEI) on campus in a panel Tuesday evening amid student discontent with the University of Wisconsin-Madison's free speech policies.
The event, hosted by The Cap Times as part of its weeklong Idea Fest, put free speech center stage as UW-Madison administration continues to face student criticism of their policies. The discussion, which also included UW-Madison Law School Dean Daniel Tokaji, former Madison Mayor Paul Soglin and moderator David Maraniss, explored the debate between ensuring campus safety and the limits of free speech...
...Full Story Here

---
---

...Full Story Here

---
---
09.16.2023
Join us for Northeast Wisconsin's most exciting multicultural festival!
The N.E.W. Dragon Boat Festival held at the Oshkosh Leach Amphitheater is an outdoor event that celebrates the diverse communities of Northeast Wisconsin. The festival welcomes newcomers to the region by promoting community-wide social connectedness and belonging, and boosting local economies through a conscious curation of multi-ethnic food fair, cultural arts and performances, immersive activities, global vendor market, and affinity fair.
Presented by the City of Oshkosh, City of Oshkosh DEI Committee, and the
Northeast Wisconsin Chinese Association
, the traditional dragon boat race encourages teams of all skills and abilities to compete. Gather your friends, family and co-workers to form your group of up to 21 individuals and claim the title of N.E.W. Dragon Boat Race Champions 2023!
...Full Story Here

---
---
Chancellor Mnookin delivered a heartfelt welcome to first-year students at UW-Madison`s Fall 2023 New Student Convocation.
The University of Wisconsin-Madison held a first-year student convocation ceremony Tuesday amid a series of incidents that put UW-Madison into headlines, including Memorial Union's pier collapsing and a violent sexual assault on State Street.

Tuesday's ceremony welcomed thousands of students to campus at a time when UW-Madison and the UW System are entangled in discussions over free speech and belonging....
..."Embrace this diversity and be comfortable with the uncomfortable," said LaVar Charleston, UW-Madison deputy vice chancellor for diversity & inclusion.

Chancellor Jennifer Mnookin centered free speech throughout her remarks.

"There is no doubt that freedom of speech is a heck of a lot easier to believe in when you agree with the speaker, but it's probably most important when you don't," Mnookin said....
...Full Story Here

---
---

On Tuesday, September 19, the Milwaukee Association for Women Lawyers (AWL) Foundation honored three Marquette University Law School students with
scholarships
.
Abby Phillips, 3L, received the AWL Foundation scholarship. The AWL Foundation Scholarship is awarded to a woman who has exhibited service to others, diversity, compelling financial need, academic achievement, unique life experiences (such as overcoming obstacles to attend or continue law school), and advancement of women in the profession...
Monika Allis, 3L, was awarded the Virginia A. Pomeroy scholarship. This scholarship honors the late Virginia A. Pomeroy, a former deputy state public defender and a past president of AWL. In addition to meeting the same criteria as for the AWL Foundation scholarship, the winner of this scholarship must also exhibit what the AWL Foundation calls "a special emphasis, through experience, employment, class work or clinical programs" in one of several particular areas: appellate practice, civil rights law, public interest law, public policy, public service, or service to the vulnerable or disadvantaged...
...Full Story Here

---
---
The President's Commission on White House Fellows is pleased to announce the appointment of the 2023-2024 class of White House Fellows. Founded in 1964, the White House Fellows program offers exceptional young leaders first-hand experience working at the highest levels of the Federal government. Fellows spend a year working with senior White House Staff, Cabinet Secretaries, and other top-ranking Administration officials, and leave the Administration equipped to serve as better leaders in their communities. Fellowships are awarded on a non-partisan basis....
Mariah Sklyr is from Chicago, Illinois, and is placed at the Department of Veterans Affairs. As Deputy Executive Director of the Wisconsin Association for Perinatal Care, Mariah focused on broadening the health care workforce by incorporating culturally adept providers, thereby fostering a patient-centric system that effectively addresses diverse needs and circumstances. Previously, Mariah served as a Maternal Child Health and Child Protection Social Worker where she partnered with the most vulnerable, institutionally neglected populations to engender systems of shared accountability to ensure they have structural opportunities to thrive. As a member of the Wisconsin Maternal Mortality Review Team, Mariah reviews every maternal death in the state to determine preventability and recommend policy and procedural changes that center patients and mitigate risk for poor outcomes. She earned an M.A. in Social Work from the University of Chicago Crown Family School of Social Work and a B.A., Cum Laude, from Marquette University....
...Full Story Here

---
---

---
---
Extending its commitment to support school systems as they find new and innovative ways to encourage, invest in, and support teachers across America, the U.S. Department of Education (Department) will host two convenings focused on educator diversity.
The two events, the Teach to Lead Summit and the Conference on Equity in Opportunity, will take place in Denver, Colorado, beginning on Oct. 26, 2023, and bring together key educational leaders for national conversations about the importance of educator diversity in our nation`s schools. During these events, the Department will bring together leaders in effective educator development to discuss key issues related to promoting educator diversity. The events are designed to lift effective practices and obtain additional insights from participating educators and organizations about how to elevate educator diversity in our nation`s schools.
"To Raise the Bar for learning conditions in our schools, we must make sure every student in every community has equitable access to outstanding educators who represent the diversity of the communities they serve and are well-supported, well-prepared, and fully empowered to lead in the classroom," said U.S. Secretary of Education Miguel Cardona. "Both of these events will provide educators, school leaders, and state and local officials with opportunities to share new and exciting ways to grow the workforce with additional diverse and talented educators. The Biden-Harris Administration will continue to work with state and local leaders to invest in our educators and provide students with the rich learning experiences and academically rigorous education they deserve." ...
...Full Story Here

---
---
Mailee Kue, Ph.D., remembers the first time she felt she didn't belong. Kue, who immigrated to the United States with her family in 1976 as a refugee, was ten when another child in her South Providence neighborhood began targeting her family. The boy would chase her and her siblings from school to home, taunting them along the way.
Kue's father, who experienced persecution as a member of the Hmong minority in Laos, was intimately familiar with exclusion, as well. But, instead of deepening the divide of racism and bullying by intervening in a forceful way, he brought the boy into their home and developed a bond of friendship — a formative example of belonging that has influenced Kue's work in the diversity sphere over the last two decades...

...Full Story Here

---
---
MADISON — State Superintendent Dr. Jill Underly today will deliver the 2023 State of Education Address at the Wisconsin State Capitol.
In her remarks, Dr. Underly will address the state of K-12 education in Wisconsin and will speak to the opportunities and challenges currently facing students, educators, and families. The 2023 State of the Education Address will begin at noon and can be livestreamed on Wisconsin Eye at
WisEye.org/live
. Below are several excerpts from Dr. Underly's speech, as prepared for delivery:
On the need for remaining hopeful in times of uncertainty…

On the importance of public schools and educators…

On embracing Wisconsin's diversity…
On supporting and advocating for all children…
On using teaching and learning to grow as a society…
...Full Story Here

---
---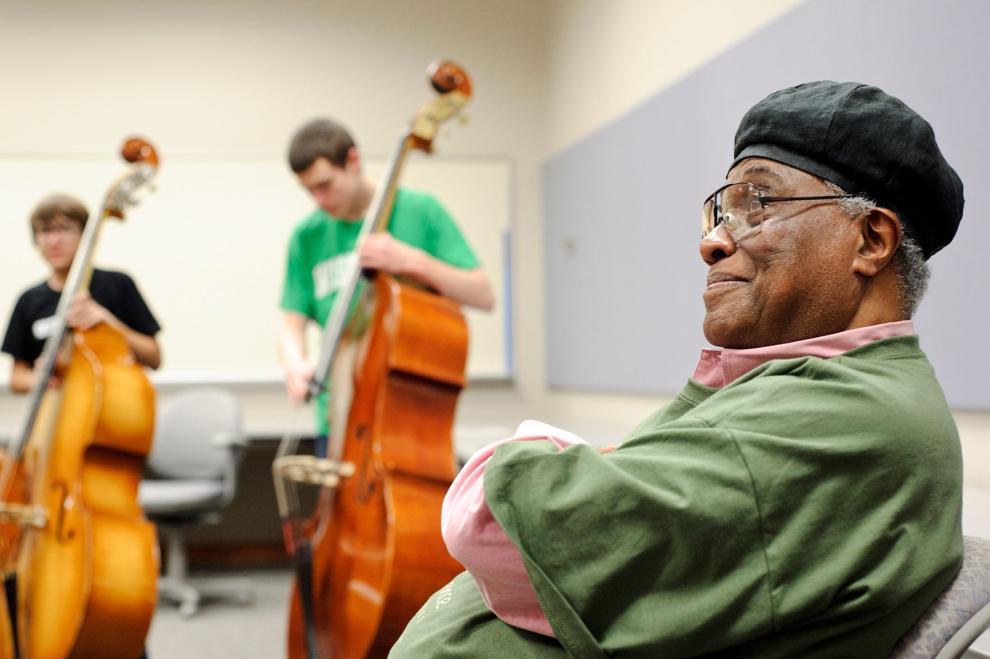 Richard Davis, the legendary jazz bassist and University of Wisconsin-Madison professor emeritus who lived here since 1977, died Wednesday at 93, according to media reports.
Tributes and memories began to pour in Thursday on social media from collaborators, friends and students.
"We traveled the back roads and played duos in the prisons," wrote jazz keyboardist and fellow Madison musical legend Ben Sidran on Facebook Thursday. "Talk about a jazz education."
"A great musician with a big personality and a deep spirit with many life lessons to teach!" Madison jazz vocalist Gerri DiMaggio commented. "He will be missed."
While jazz was his home base, the Chicago native's genius jumped genres. Moving from Chicago to New York, he played with everyone from Sarah Vaughan to Van Morrison, from Leonard Bernstein to Bruce Springsteen. Critic Greil Marcus called his work on Morrison's "Astral Weeks" album "the greatest bass ever heard on a rock album."...
...Full Story Here

Ken Notes: One very cool cat! I was and am a fan, got to see him play a few times...

---
---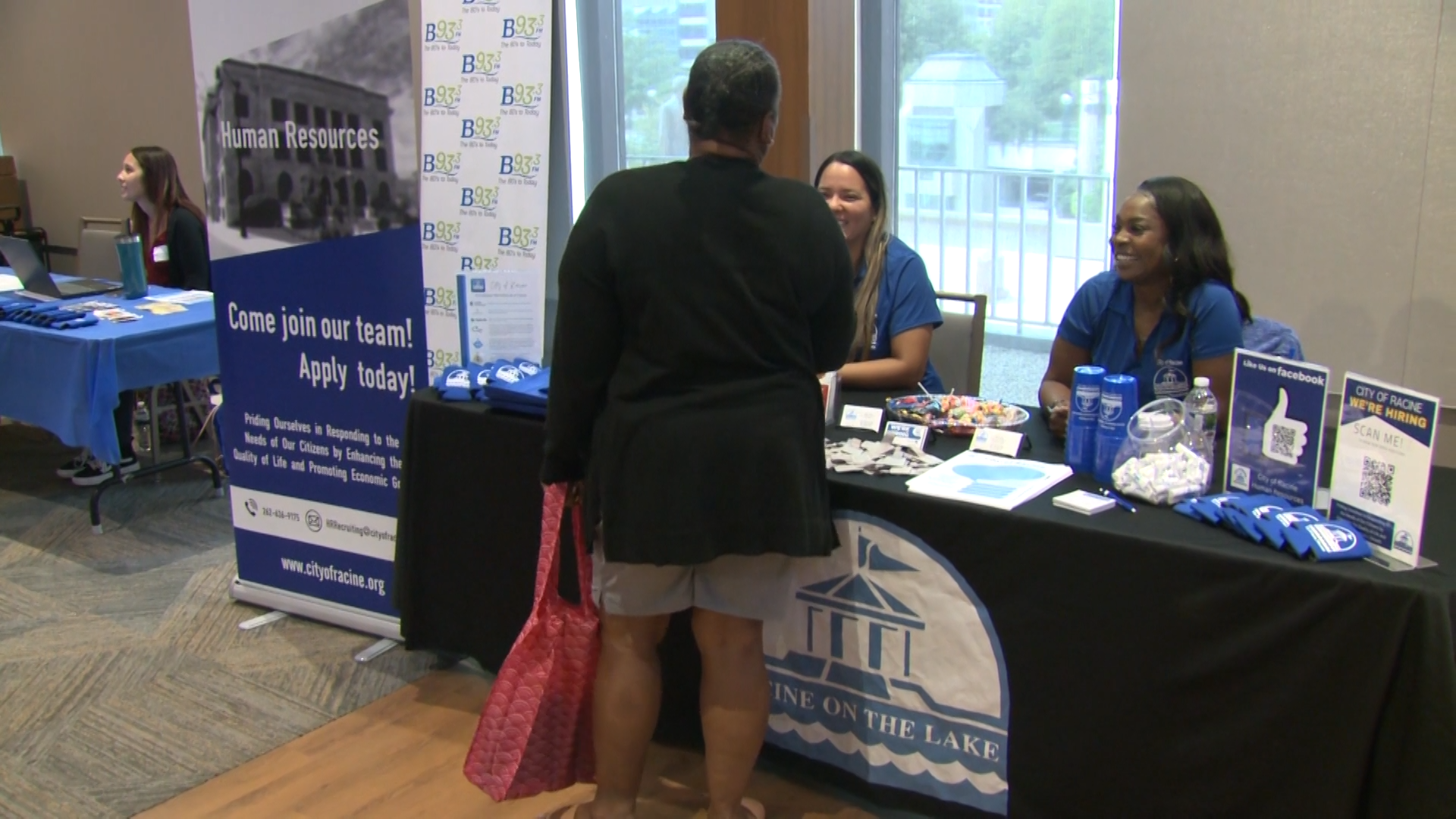 Employers like WISN 12, the IRS, Air Wisconsin, Smithfield Foods and several others are looking to hire jobseekers at the Diversity Employment Day Career Fair Wednesday.
MILWAUKEE -- Local and national employers were looking to fill tens of thousands of positions last Wednesday at the 23rd annual Milwaukee Diversity Employment Day Career Fair...
...The Diversity Career Fair was a free event and open to anyone, including veterans, women, people of all races and religions, and people with disabilities...

...If you missed the event, you can email your resume to fasttrack@citycareerfair.com, and put in the subject line `Milwaukee.` From there you can also attribute which employers you would like that resume to go to...

...Full Story Here

---
---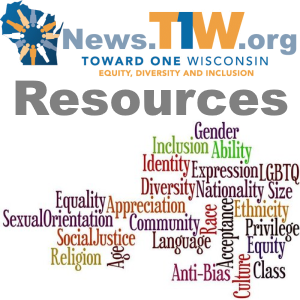 Our resource links continue to grow and were taking up a lot of space in the weekly news letter so we moved them
here
or at the story link.
Please send us resources, reports, funding opportunities, best practice ideas, and other materials that may help your peers in their DEI journey. We will continue to expand this catalogue of tools and now will be able to include more details about each one...
...Full Story Here

---
---

---
---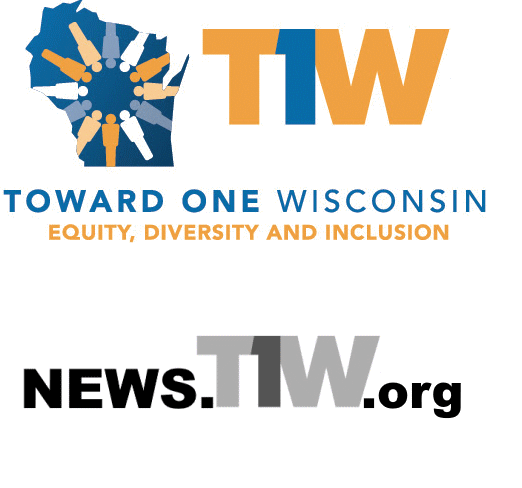 Organizers of Toward One Wisconsin Conference (T1W), an annual conference on diversity, equity and inclusion (DEI), have announced the launch of the T1W Newsletter, Website, and Member Network.
News.T1W.org (the weekly newsletter) is a collection of articles, events, and original content, from across the State and Nation on Diversity, Equity & Inclusion. We are attempting to keep you informed, archive best practices and promote events that further this cause in the State. Of course the culmination of our efforts is the annual T1W Conference.
In addition to a weekly newsletter featuring DEI news and updates, members have the ability to connect with other professionals, as well as share updates on what they are doing to move the needle on DEI issues in their communities, businesses or organizations.
The Newsletter is sent to between 1,500 and 2,000 individuals each week. While anyone may subscribe for free at the Website, we have worked hard to add DEI Professionals, Government Officials, Business Leaders and Press Outlets to our database. We have an open rate in excess of 40% (well above industry standards) and a substantial number of click-throughs to the original articles or resources.
We keep all of our articles in a searchable database so that older stories can be recalled months or years after they were first published. This allows us to maintain a best practices resource by exploring what others in the State have done before.
We also aggregate a permanent collection of resources from across the state and nation. These will allow DEI professionals to see what others have done, review resource materials, share ideas, and expand the resources they make available to their own members.
The Toward One Wisconsin Conference began with a mission to foster and sustain a statewide culture that understands that diversity, equity and inclusion are essential to the state's continued excellence. Since the first conference in 2019, T1W has brought together thousands of attendees from diverse backgrounds to have broad ranging conversations around the work of DEI and how to move from talk to action.
"It's incredibly important that this work doesn't stop once the conference is over each year," said T1W organizer, Eric Giordano. "The T1W Network will allow those interested in DEI to stay up to date, engaged, and connected to what others are doing."
Members are encouraged to submit updates, articles, and stories on the work that they are doing. These articles will then be shared on the T1W Network website and newsletter.
Wherever you are on your Diversity, Equity & Inclusion (DEI) journey, there's something for you at Toward One Wisconsin. Whether you're just starting out and overwhelmed, or you're a leading activist in your community, this conference and the T1W network will provide best practices, insights and implementation tools to help you take the next steps. Across all sectors of business and life in Wisconsin, parallel efforts are underway to prioritize DEI. We may be in different places based on the diversity of our experiences, but we're all traveling the same journey: Toward One Wisconsin.
Email us at:

Newsletter Editors
Ken Harwood

Advocating for WisconsinKen [at] KenHarwood.com
608.334.2174
...Full Story Here

---
Start Week: 35 - Query String:SELECT * FROM T1W WHERE `issue` > 35 and volume = 11 OR `issue` > 90 ORDER BY sortorder